Extra big formats
The main problem of big format embroideries are material contractions that make it difficult to correctly position all the details of a motif. To overcome such deformations and other problems, over decades of creating big embroideries, we have developed technical and software solutions that enable us to deliver perfect embroideries of any dimensions and number of stitches.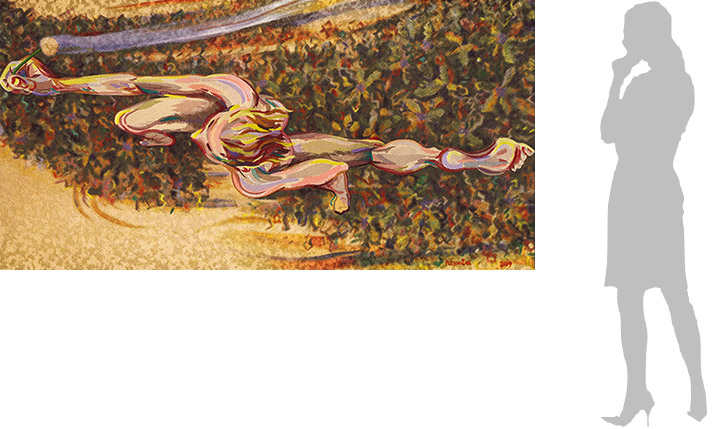 Extraordinary number of stitches
In a classic embroidery, the number of stitches is somewhere between 20,000 and 200,000, and is limited by stretching and contracting of materials. By overcoming this limitations, we are able to make embroideries with millions of stitches which enables us to produce photorealistic embroideries and recreate any painting of any artistic style.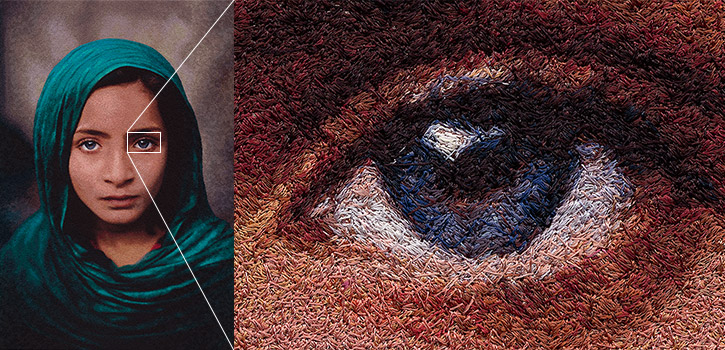 Innovation of layering
We layer multiple colours of threads and so create rich embroidery and colour texture that is impossible to create with classic one-layer embroidery technique. By layering, we develop colour transitions and shadowing, by which we create multiple-colour surfaces, similar to pointillism painting.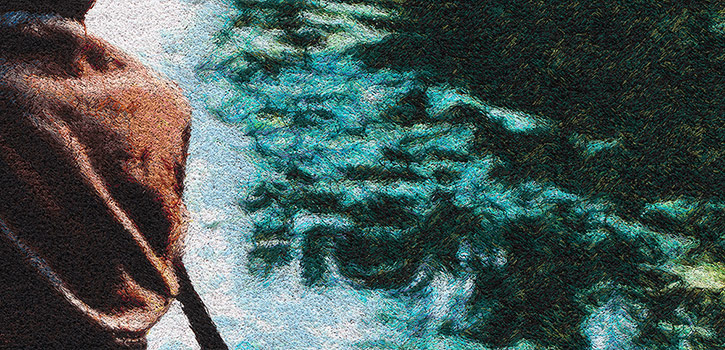 Smooth transitions and shading
By intertwining threads of endless colours and creating colour transitions, we can shape soft shadows, make one surface transition into another and mix colours into an endless multitude of hues. This way, we can also recreate motives from photographs and sophisticated art paintings which wouldn't be possible with classic embroidery technique, using vector surfaces.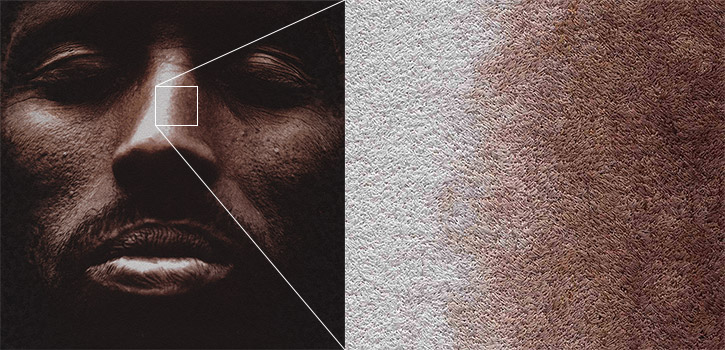 Sophisticated colour calibration
Usually in embroidery, 10 or 15, maybe 20 colours of threads are used. We use threads of many more colour hues, even over a hundred in a single artwork. We choose them from an array of over a thousand thread colours available, and if a colour still doesn't match the desired one, we create it by layering and colour transitions. We have digitally scanned colours of all threads by using a spectrograph, so we can match any colour from an original material or from CMYK, RGB or Pantone colour schemes.