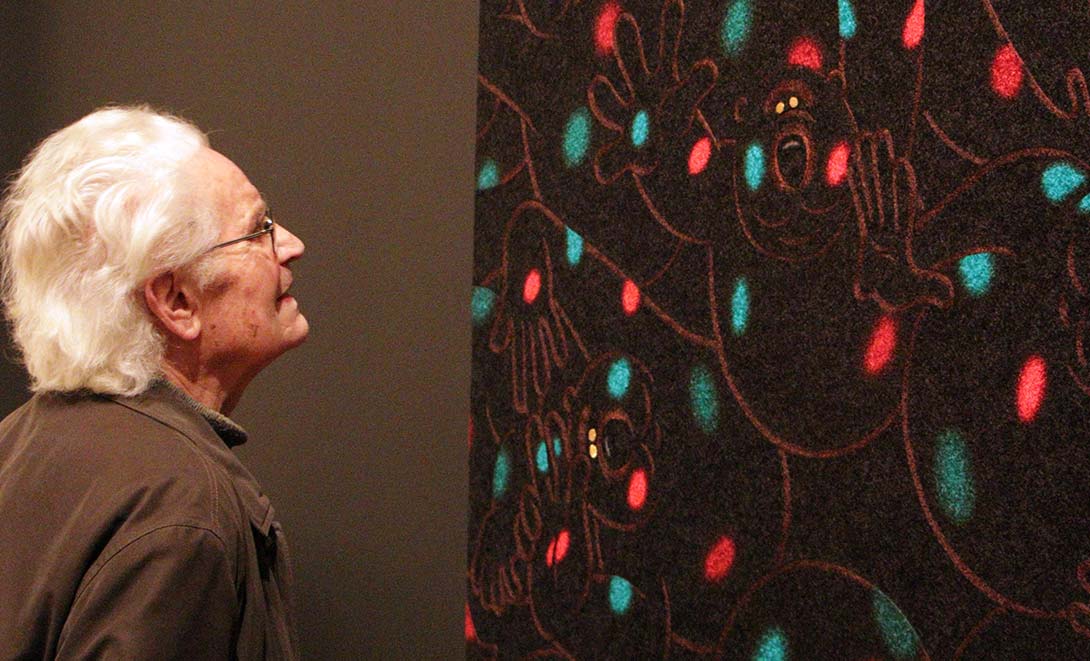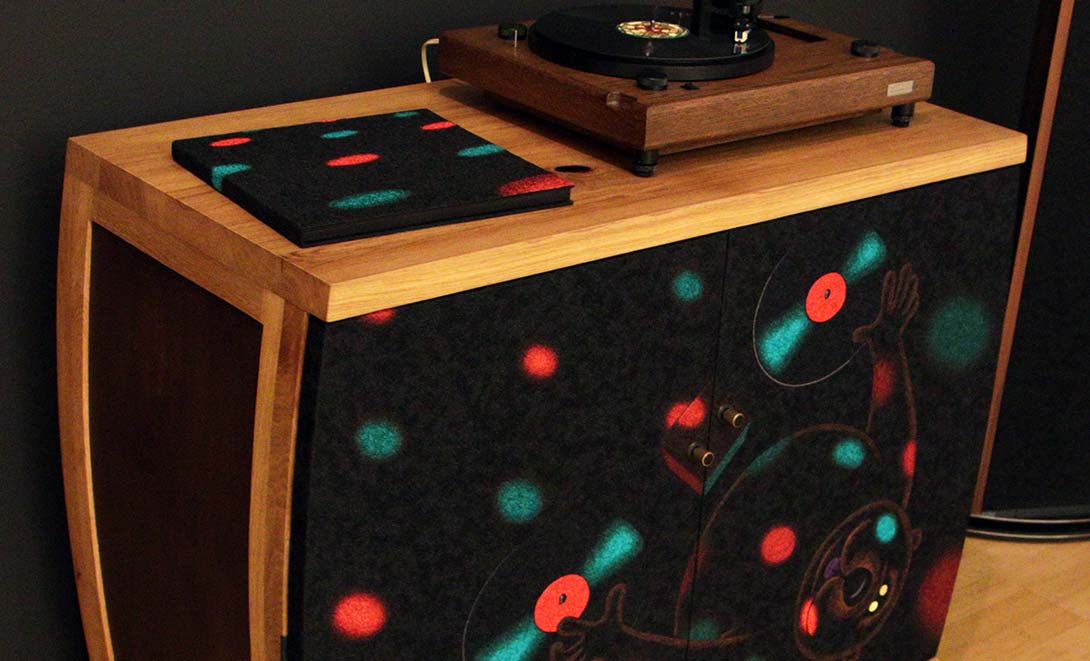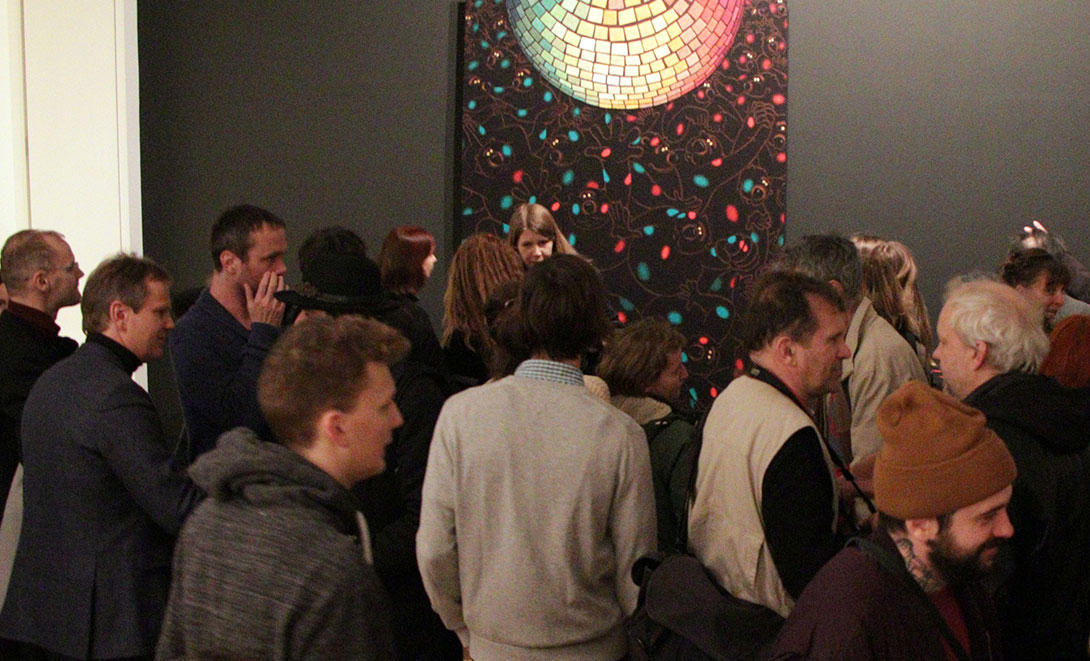 About the artwork
Dancing bears were once seen anywhere in the Eastern Europe countryside, in travelling circuses and tourist resorts. In the nineties, animal welfare organizations began exposing the truth behind this tradition, being that bears have been trained to "dance" on hot plates. Once retired, the remaining dancing bears were placed in special nature reserves but never lost the habit of shuffling their feet. Dancing Bears, the embroidered art installation, juxtaposes their tragic history and lighter side of bears, happily dancing in freedom. The form of a disco party allows bears to express unique styles while upholding their common heritage. In the embroidered art installation, original embroidery piece Dancing Bears is complemented with a hardwood musical cabinet, depicting an embroidered DJ Bear on the cabinet doors, high fidelity speakers with embroidered dust covers and unique music featured on a vinyl LP in a unique embroidered case. The music piece was written specifically for the project, incorporating into dramatic music themes of bears and embroidery machine sounds as the rhythm base. We used the finest subtle colour gradations to create three-dimensional bears of seemingly simple contours and added the blue and red reflections from the disco ball, perfectly aligned in 3d space with their different sharpness levels, transparency and brightness. Bears come to life through their eyes, embroidered with golden thread in order to create perfect contrast with the background – when the lights are off, one can only see disco ball reflections and eyes shining from the dark. The 3D space is completed with the disco ball on top, meticulously embroidered with many hues of golden threads ranging from dark gold greens to bright yellows and all the way to dark reds. Each section of the disco ball is embroidered in a different direction of stitches, which creates an illusion of the disco ball reflecting light from each mirror piece independently as an observer moves from left to right.
About the artist
Vladimir Leben is drawing moral lessons from animals as examples. He is not inspired by their outer appearance of furs and feathers – of their exact anatomy in a way a naturalist would be. Instead, he portrays them as protagonists in stylized situations that have coded meaning. For this a viewer has to know background of a particular story, often a tragic one. His favourite subjects are underdogs – usually in the appearance of bears and dogs. They are presented as sentient beings, man's interlocutors and points of identification. Being soft animals with innocent eyes, helps them to get their message across, and builds viewers emotions and empathy.
Born in 1971 in Celje. Studied painting at the Academy of Fine Arts and Design in Ljubljana. He is co-founder of the Museum of Too Modern Art – a unique movement in Slovenian art history. He has participated in numerous solo and group exhibitions with Galapagos project as one of the most successful. He is also an awarded Illustrator and maker of animated films.
Features
Extraordinary number of stitches
In a classic embroidery, the number of stitches is somewhere between 20,000 and 200,000, and is limited by stretching and contracting of materials. By overcoming this limitations, we are able to make embroideries with millions of stitches which enables us to produce photorealistic embroideries and recreate any painting of any artistic style.
Innovation of layering
We layer multiple colours of threads and so create rich embroidery and colour texture that is impossible to create with classic one-layer embroidery technique. By layering, we develop colour transitions and shadowing, by which we create multiple-colour surfaces, similar to pointillism painting.
Smooth transitions and shading
By intertwining threads of endless colours and creating colour transitions, we can shape soft shadows, make one surface transition into another and mix colours into an endless multitude of hues. This way, we can also recreate motives from photographs and sophisticated art paintings which wouldn't be possible with classic embroidery technique, using vector surfaces.
Sophisticated colour calibration
Usually in embroidery, 10 or 20, maybe 30 colours of threads are used. We use around 1,000 colour hues and if a colour still doesn't match the desired one, we create it by layering and colour transitions. We have digitally scanned colours of all threads by using a spectrograph, so we can colour match any colour from an original material or from CMYK, RGB or Pantone colour schemes.